Activision Blizzard Q4 2012 Earnings Report
Diablo III has sold over 12 million copies, and Blizzard All-Stars continues development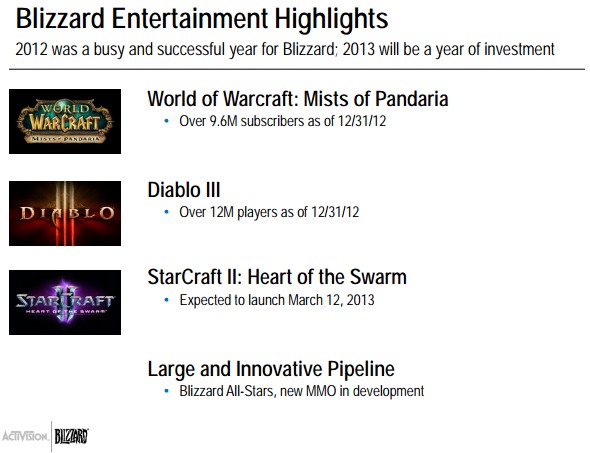 Activision-Blizzard presented their fourth-quarter 2012 earnings report today, providing interesting details about the continued sales and investment for Blizzard games, including Diablo III. For the company at large, 2012 was a solid year for Activision-Blizzard, with record fourth quarter and annual results. They generated approximately $5 billion in revenues in 2012, a 34% operating margin and EPS growth of 27% over the prior year. We will delve into the specifics of the information on Diablo III and Blizzard's continued development.
Diablo III Sales and Development
According to the earnings release, Diablo III sold over 12 million copies by the end of 2012. This is the a new sales record given for the game; the last reported sales data in the Q3 2012 earnings call stated that Diablo III had sold in excess of 10 million copies, and at that time was the
best-selling PC game of 2012
. Since it has now sold over 12 million copies since the game's release on May 15, 2012, Diablo III continues to set sales records.
The high sales number is beyond what Blizzard was expecting; Mr. Morhaime has stated that the initial sales of 10 million copies within a month of release
exceeded their full year forecast
for Diablo III. These sales had an impact on the overall Activision-Blizzard numbers, Mr. Kotick noted today. "Our success in 2012 was also attributed to the significantly better performance of Blizzard's Diablo III."
Diablo III was also listed as an area of focus for Blizzard, with Mr. Morhaime stating, "Diablo is extremely important to Blizzard and we'll continue to invest aggressively to support the franchise and its community." As shown in the presentation slides excerpt above, Blizzard views 2013 as a year of investment across many of their franchises.
Blizzard All-Stars
Another game receiving continued investment by Blizzard is
Blizzard All-Stars
. It is mentioned prominently as being in the development pipeline. A recent
article by Eurogamer
discussed the changing shape of the game, as it has shifted from a simple map within
Starcraft II
into a stand-alone game. Blizzard All-Stars is currently being designed as a free-to-play game with micro-transactions, much like the leader in the genre,
League of Legends
by Riot Games. We can expect to learn more about Blizzard All-Stars at BlizzCon 2013 this November. We may even see more information about it sooner than that; the mention of another game being released by Blizzard in 2013 means that they are moving more aggressively this year with their release schedule, than previously expected.
The following noteworthy quotes are from Activision-Blizzard executives in the Q4 2012 earnings call:
Michael Morhaime - Chief Executive Officer of Blizzard Entertainment and President Blizzard Entertainment
- "Moving on to Diablo III. The launch of the game back in May had a tremendous impact on Blizzard and our community. Diablo III broke PC game sales records and as of the end of the year, had sold more than 12 million copies worldwide. While this is a humbling achievement, we're not satisfied with merely breaking sales records. The development team has worked aggressively to update the games since the launch, adding new content, game systems, features and other improvements. A new update is in testing now, which will add dueling and other new content. Diablo is extremely important to Blizzard and we'll continue to invest aggressively to support the franchise and its community."
Dennis Durkin - Chief Financial Officer
- "This year, our outlook for Blizzard includes the release of the StarCraft II expansion pack, Heart of the Swarm, in March and one additional title."
Robert A. Kotick - Chief Executive Officer, President and Director
- "Blizzard plans to launch StarCraft II: Heart of the Swarm on March 12, which we expect to continue Blizzard's remarkable record of excellence. And there are also in development a new content for World of Warcraft and Diablo III players, and we'll of course continue to invest for the future in Blizzard All-Stars and our all new MMO."