Blizzard Announces Diablo III for PS3 and PS4 Consoles
Chris Metzen releases info at Sony's PS4 announcement event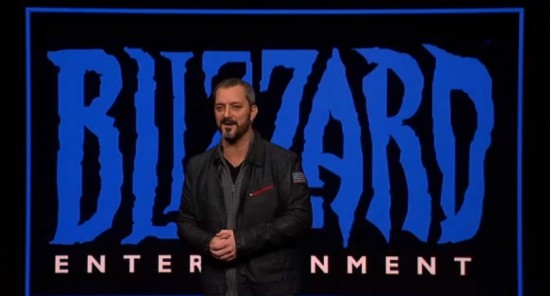 Blizzard has announced that Diablo III will be coming to the PlayStation 3 and PlayStation 4 consoles. At the PS4 preview that Sony ran on Wednesday, February 20, Chris Metzen from Blizzard stated that Blizzard has had a "deep desire to get back into the mix" of console games. "That time is now." "Many of you are probably wondering why an old-school PC game developer is crashing the Sony party tonight." Stating that Blizzard has "painstakingly optimized our control schemes" for the console version of Diablo III, Metzen announced that the game will be coming to both the current PlayStation 3, and the next-generation PlayStation 4. Details will be rolled out over the coming months, and the PS4 version of Diablo III will be demoed at
PAX East
, coming to Boston on March 22-24.
Update:
The official announcement and press release are out from Blizzard. Read on for the details from both of those announcements.
Here's the official announcement:
The minions of Hell grow stronger.
We're excited to announce that Diablo III is being developed for the Sony PlayStation®3 computer entertainment system. We'll also be adapting the award-winning action-role-playing game for Sony's newly announced platform: the PlayStation®4!
Sit Down, Relax, and Kill Some Demons
Diablo III for the PS3â"¢/PS4â"¢ will be based on the core PC game and feature all the latest updates, including Paragon levels, the Infernal Machine event, Monster Power, Brawling, and more. This version is also being tailored with customized controls, a new user interface, and a dynamic camera perspective to provide an awesome Diablo III experience for PlayStation gamers.
Players will be able to wage war against the Burning Hells on their own in single-player games as well as team up and destroy countless demons with their fellow Nephalem in multiplayer games. For multiplayer, players will have the option to choose between four-player online (complete with matchmaking) and four-player local co-op modes for their couch-based warfare.
Follow the Falling Star to Boston, MA
The PS3 version of Diablo III will make its public debut at PAX East in the Boston Convention and Exhibition Center from March 22–24, and attendees of the convention will be some of the first to defend the world of Sanctuary via handheld controllers.
We call upon all heroes to join us at the official Blizzard booth, where you can enjoy some fast-paced hack-and-slash, participate in fun contests and giveaways, and learn more about the game. (Community managers will also be on-site, and they look forward to answering your questions and slaying some of Diablo's many malevolent minions with you.)

For more information, be sure to check out the official press release, and stay tuned to Diablo3.com for future updates.
The press release from Blizzard.com:
THE LORD OF TERROR TO UNLEASH THE FIRES OF THE BURNING HELLS ON PLAYSTATION® GAMERS WORLDWIDE
Blizzard Entertainment announces Diablo® III for PS3™, confirms franchise coming to PS4™
World-first hands-on set for PAX East, March 22–24
IRVINE, Calif.—February 20, 2013—The fate of Sanctuary will soon rest in the hands of PlayStation gamers around the world. Blizzard Entertainment, Inc. today announced that it is developing Diablo® III, the latest entry in its award-winning action–role-playing-game series, for the Sony PlayStation®3 computer entertainment system. The company also today confirmed plans to adapt the game for Sony's newly announced PlayStation®4, its next-generation computer entertainment system.
The PS3â"¢/PS4â"¢ version of Diablo III will be based on the critically acclaimed core experience of the PC version, including all of the latest upgrades, such as the Paragon leveling system, customizable Monster Power, Brawling, and epic Legendary items. In addition, Blizzard is designing an all-new user interface, including an intuitive control scheme and a new dynamic camera perspective, that will make questing and combat in the world of Sanctuary feel like second nature on PlayStation platforms. Players will be able to battle their way through the story in single-player mode and also experience the hack-and-slash joy of destroying demons and collecting loot together with their friends via seamless four-player online and local co-op modes.
Blizzard also announced today that the PS3 version of Diablo III will be shown live at PAX East, taking place at the Boston Convention and Exhibition Center from March 22–24. Attendees there will be the first in the world to pick up a controller and experience the fast-paced action and visceral gameplay of Diablo III via the new custom-designed interface.
"Diablo III looks and plays great on the PlayStation," said Mike Morhaime, CEO and cofounder of Blizzard Entertainment. "We put a lot of care and thought into the PlayStation version to make sure it would deliver an authentic Diablo gaming experience, and we're really pleased with the results. We can't wait for players to try it out at PAX East."
Diablo III continues the epic Diablo storyline, with players taking on the role of one of five heroic characters—barbarian, witch doctor, wizard, monk, or demon hunter—and embarking on a perilous quest to save the world of Sanctuary from the corrupting forces of the Burning Hells. As players adventure through rich and varied settings, they'll engage in pulse-pounding combat with hordes of monsters and challenging bosses, grow in experience and ability, acquire artifacts of incredible power, and meet key characters who'll join them in battle or aid them along the way. Diablo III was originally released for Windows® and Macintosh® PC on May 15, 2012 and within 24 hours became the fastest-selling PC game of all time. As of December 31, 2012, Diablo III had sold through more than 12 million copies worldwide.*
To learn more about Diablo III, please visit the official website at http://www.diablo3.com. Further details about Blizzard's plans for the PlayStation versions of the game will be announced on the site as development progresses. With multiple games in development, Blizzard Entertainment has numerous positions currently available—visit http://jobs.blizzard.com for more information and to learn how to apply.
*According to The NPD Group, GfK Chart-Track, and internal company estimates.
PlayStation is a registered trademark of Sony Computer Entertainment Inc.