Rob Pardo Stands by Jay Wilson
Blizzard executive gives public support to the outgoing Diablo III game director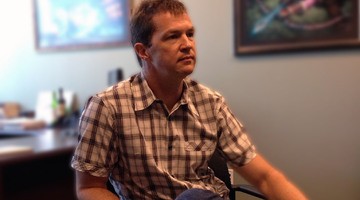 Rob Pardo, the Chief Creative Officer at Blizzard Entertainment, has weighed in on the ongoing response to Jay Wilson leaving the Diablo III team. After Jay Wilson announced that he was
stepping down
from being game director for Diablo III, the Blizzard forum thread about the news had many points of view, and many of them were highly critical of Jay Wilson. In typical internet forum fashion, he became the target of any dissatisfaction with Diablo III, and many posts were highly vitriolic or crude.
Rob Pardo is one of the top executives at Blizzard, with a long career there including being the Lead Designer for
World of Warcraft
and many other Blizzard games. He title now is
Chief Creative Officer
, where he helps shepherd Blizzard projects. He was the executive producer on Diablo III, and provides his perspective as a long-time colleague of Jay Wilson in a solid post of support.
This thread saddens me greatly. I know that the Battle.net forums have earned a reputation for rough justice, but I do not believe justice is being served by how people are speaking about Jay's departure from Diablo III.

I am very proud of the Diablo franchise and what the team was able to accomplish with Diablo III. As a gamer I have enjoyed the game and played for many, many nights with friends and family. I'm not, however, going to use that as an excuse. The Diablo community deserves an even better game from Blizzard and we are committed to improving it. We have a talented team in place and have no intention of stopping work on Diablo III until it is the best game in the franchise.

I'm the only person in this thread who has actually worked with Jay. I hired Jay to head up the Diablo project and had the pleasure of getting to work with him, both in building the team and designing the game. He has great design instincts and has added so much to the franchise with his feel for visceral combat, boss battles, and an unparalleled knack for making it fun to smash bad guys. I've worked with many, many designers at Blizzard and Jay is one of the best. He has a great career at Blizzard ahead of him and I guarantee that you will enjoy Jay's game designs in future Blizzard games.

If you love Diablo as much as we do, then please continue to let us know how you feel we can improve the game. If you still feel the need to dish out blame, then I would prefer you direct it at me. I was the executive producer on the project; I hired Jay and I gave him advice and direction throughout the development process. I was ultimately responsible for the game we released and take full responsibility for the quality of the result.
Blizzard is already looking to
find the new game director
for Diablo III, to move the game along. Hopefully this solid message of interest and support from a senior executive at Blizzard will help the Diablo III fans have confidence in that process, going forward.