Blizzard Posts 'Diablo III Game Director' Job Position
Details on the newly available position, and 8 other Diablo III job openings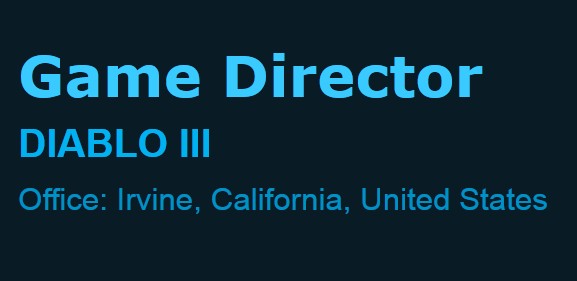 Blizzard has posted the newly available job position for
Game Director of Diablo III
. This comes following
Jay Wilson's announcement
that he is leaving the Diablo III team, after he took the Diablo III game through release and a tumultuous eight months since then. Blizzard is moving quickly to find the replacement for that position, and has listed it on their
Jobs Directory
.
There are eight other jobs on the Diablo III team that Blizzard is currently looking to fill, including
Game Systems Designer (Console)
, and a general
Game Designer
. All of these positions are located at Blizzard's headquarters in Irvine, California. Let's look at the details for the job positions, and see what Blizzard is expecting for the expansion of their Diablo III group.
The
Game Director
position is the leader for the entire Diablo III team. This role has been filled for the length of the project by Jay Wilson. There are possibly members currently on the Diablo III team who are interested in taking this role, but Blizzard is also looking outside the company, to find the best candidate for the position. As one of the premiere video game developers in the world, they can afford to be choosy about all the positions they are filling. Certainly a role of this importance will be carefully considered by the Blizzard management, especially in light of wanting to move the game forward from it's rocky release.
Blizzard Entertainment is looking for a highly creative individual with outstanding communication skills, proven experience in creative direction, and a track record of shipping AAA titles to lead our future efforts in creating epic video games.
Responsibilities
Be the vision holder for the game, set the creative goals for the team.
Direct game design while successfully partnering with the production director to deliver an epic gaming experience.
Evangelize games to the player community via press announcements, forum posts, interviews, and public appearances.
Establish and maintain a creative environment, resolve personnel challenges, motivate qualified developers, and foster a culture of success.
Maintain an awareness of global player behavior and customs to ensure that design decisions are relevant for a majority of regions.
Coach, and guide creative team members toward achieving their career goals.
Stakeholder in studio level strategy, and provide an active voice in resolving global issues.
Requirements
Knowledgeable and passionate about Diablo
A minimum of 5 years' directing video game development
Shipped multiple AAA products as a game director, creative director, or in a senior development role
Outstanding communications and relationship-building skills
Recognized ability to guide and inspire large development teams
Able to work well in a team environment and communicate effectively with all development disciplines: programming, art, design, sound, and production
Exhibited ability to coach and mentor employees at all levels of an organization
Great sense for what makes a game fun to play
Unrelenting self-motivation and initiative
Bachelor's degree or equivalent work experience
A love for Blizzard Entertainment games
Pluses
Experience developing online video games, and / or role-playing games
International game experience
Higher educational degree
Another key position that Blizzard is looking to fill for the Diablo III team is that of a
Game Designer
. This role is part of the core design team for the Diablo III game, dealing with issues such as gameplay balance, the rules of the game, and the game in general. There are multiple levels of seniority within the game design group. For example, one of the public faces of the Diablo III team is Wyatt Chen, who has provided information such as the
Patch 1.0.7 preview
. He is currently the
Senior Technical Game Designer
for Diablo III. The role that Blizzard is looking to fill here is a more generalized
Game Designer
position.
Blizzard Entertainment is looking for a talented and experienced game designer to join our crusade in developing top-quality computer games. Duties include overseeing general game design, rules systems, play balance, interface design, story, and team design meetings. The ideal candidate has proven experience in game design, outstanding people-skills, and a longstanding passion for playing games of multiple genres and platforms.
Requirements
A minimum of 2 years game design experience on a shipped product
Excellent written and verbal communications skills
Absolute passion for playing and making computer games
Able to work well in a team environment
Pluses
Bachelor's degree or equivalent experience
Experienced in designing, playing role playing games (RPG's) and action games
Experience developing rule sets (pen and paper or electronic, character classes, enemies, skill systems, etc.)
Experiencing running pen and paper RPG campaigns
This person will oversee console game design including controller, UI, combat systems, and play balance design. The ideal candidate has proven console experience in at least one of the following areas: AI, Combat, or Game Systems, in addition to, outstanding people-skills, and a longstanding passion for playing video games of multiple genres and platforms.
This is part of Blizzard's interest in bringing Diablo III to one or more consoles, and expanding the team for that. We know that as of December, the game was already
running on a console
at Blizzard, although the exact console used has not been specified. (It seems likely that the model being used is a developer pre-release of an upcoming console, such as the next Xbox.) Blizzard has been careful to not formally announce a console port of Diablo III, but they are hard at work to see if it can be done. The requirements for this job position, and the way Blizzard has approached the idea over the years, speak to the desire to make a version of Diablo III uniquely suited to the console, and not just a simple port from the current PC/Mac game.
The rest of the positions that Blizzard is looking to fill on the Diablo III team are more technical in nature:
The overriding theme is just how much Blizzard is looking to expand Diablo III. Some of these positions are for replacements of people who have left the company or are looking to move to another project within Blizzard, such as Jay Wilson. Even apart from that, the core team appears to be growing. Both an expansion and a console port are being actively worked on, along with the free patches that continue to advance the game. Beyond the immediate excitement from the news of another Game Director for Diablo III, 2013 looks like an adventurous year for the Diablo franchise.