'Diablo 3' Makes Google Zeitgeist for 2012
The videogame title takes the 5th spot in the trending Google searches for the year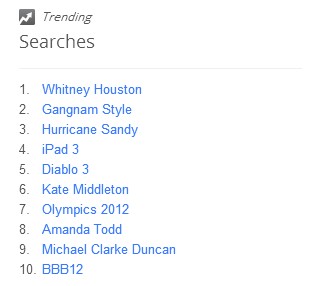 The worldwide interest in Diablo III this past year was shown in a great way this week, when "Diablo 3" showed up on the top 10 list of trending Google searches for 2012. The annual
Google Zeitgeist
for the most popular searches around the world include Diablo III as the only video game on the list. The term made the
Trending
chart, which Google defines as:
Search queries with the highest amount of traffic over a sustained period in 2012 as compared to 2011.
This is from Google's data of over one trillion searches made throughout 2012.
A look at Google Trends for
Diablo 3 over the last 2 years
shows how the interest peaked around the release of the game, as is usual for any new entertainment media. The overall numbers have been high enough to push it onto a highly competitive list, for the year!