No PVP-Specific Gear in Diablo III
No equipment specifically for PVP, and no change to the red outline on selected opponents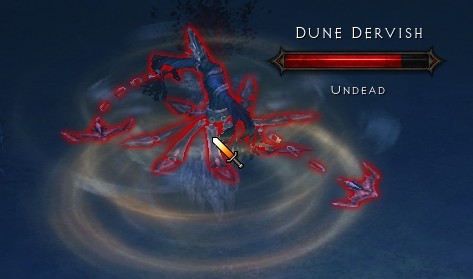 The Game Director of Diablo III, Jay Wilson, has a Twitter account where he has been posting a few tidbits lately. One week ago, he mentioned an
upcoming blog about PVP
, and now a few more ideas were given about the PVP system, as well as targeting outlines in the game.
Jump past the break for all the details.
Since the mention of PVP last week, a lot of questions have arisen about just how the Diablo III PVP system will work. Presumably many of them will be answered in the blog (which will likely be published this week) from Blizzard about the new system, but we already know one big point about the system: there won't be any PVP-specific equipment added to the game.
@cmlive1 There is no specific PVP gear, only gear good for PVP depending on your build.

— Jay Wilson (@Angryrobotics) December 1, 2012
There was also some questions about the red outline that shows up on an opponent in the game, when the player mouses over them. It sounds like the outline is here to stay, along with the mouse pointer, to help players quickly see where their character is targeting.
@avushb no plans. We feel targeting suffers without the outline.Gameplay first.

— Jay Wilson (@Angryrobotics) December 1, 2012
There was also confirmation from a Blizzard blue poster, in the Australian & New Zealand forums, that there isn't any maintenance scheduled this week on the US servers. The last few weeks have seen some major maintenance downtime, but it looks like smooth sailing this week!
Hi there,
At this stage we do not have maintenance planned on the US realm tomorrow evening- so game on! :)

***** UPDATE: Looks like we are having a small downtime. It will be from 11.59pm this evening AEST for two hours.
Update:
As noted by the blue poster, there is going to be a 2 hour downtime maintenance on Tuesday.